Durch wiederholte Begegnungen mit Bildern des Barocks und der Malerei des ausgehenden 18. und beginnenden 19. Jahrhunderts ist ZIG VAN OOSTEN die Idee gekommen, adaptierte wie erfundene Motive in sein JETZT einfliessen zu lassen.
Die in der letzten Zeit entstandenen Motive mit warmen, erdigen und Goldtönen - in den Grössen zwischen 40x40cm und 70x70cm - werden zur aktuellen MOMENTAUFNAHME seiner Arbeit.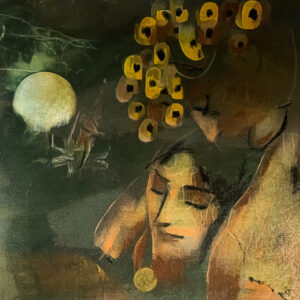 ---
ZIG VAN OOSTEN 
Through repeated encounters with baroque paintings and paintings from the late 18th and early 19th centuries, ZIG VAN OOSTENS idea was to incorporate adapted and invented motifs into his NOW. The recently created motifs with warm, earthy and gold tones - in sizes between 40x40cm and 70x70cm - become the current MOMENT of his work.
Vist the homepage → ZIG VAN OOSTEN